Dylan Brady of deciBel(Architecture)))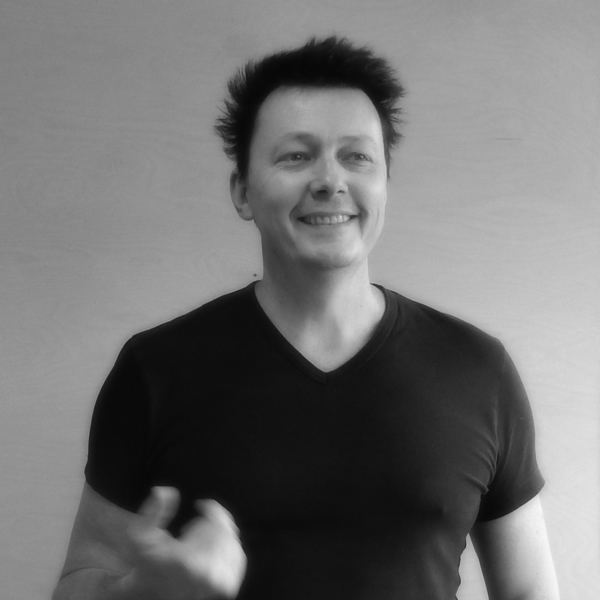 Dylan Brady is a registered Architect. Dylan has been contributing to the public realm of architecture since 1992, and has delivered extraordinary buildings and outcomes in that time across Asia and Australia. Founding Director of studio505, and now Founding Conductor of Decibel Architecture, Dylan loves to be a fun dad, work in the garden, draw ideas with Pen 1.0, and deliver outrageous promise.

On becoming an architect
I had known from a very early age that I wanted to be an architect. I would be regularly lost in deep contemplation and imagination with Lego. I was also a prolific drawer and voracious consumer of science fiction. I was exposed early on to building our own home, and to architecture directly through the fact that my parents met whilst studying architecture at Melbourne University. Yes- architect parents. My dad actually warned me off architecture – he had pursued architecture whilst my mum (now separated) became a standup comedian, writer, director, actor, civil celebrant, and grandmother. As an architect, dad had worked on the construction side for many years, on major projects around the world, and he ended up teaching me many of the pitfalls that architects were falling into- a lack of construction knowledge, an irrelevance and inability to capture scope and deliver outcomes that threatened to relegate architects the 'choosers of colour'. These were valuable lessons, well learnt and relevant to my practice to this very day. My mother on the other hand taught me humour, respect, humility and how to be a great person. A well rounded outcome strangely carved from the rocky road of circumstance.
I have had a passion from a very early age to change the world for the better- and architecture seemed to be the best way to touch and form the world in positive ways that still allowed me to work in sculptural, physical and constructive ways.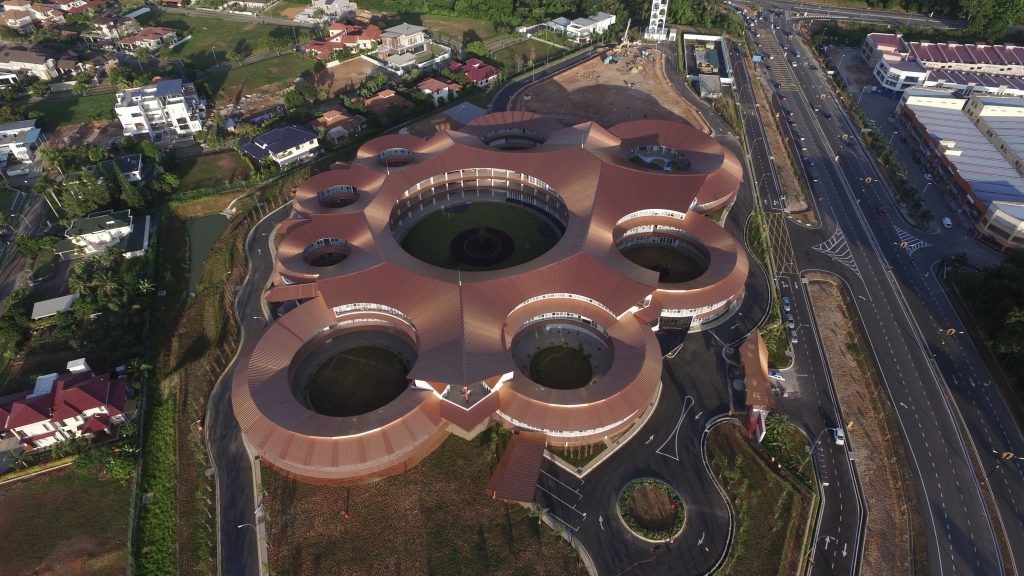 On discovering his voice as an architectural designer
Architecture has a long fuse- discovering a voice is about doing a lot of reading along the way to writing your own. I have been lucky to have had opportunities to work on major public buildings in positions of real agency throughout my career- these large projects (Melbourne Exhibition Centre and Melbourne Museum at DCM, Federation Square at LAB) set the bar for aspiration on what and how one can speak and communicate a desire for design.
I am intrigued by architecture that has a clear story- be it a process, a technique or technology, a culture, and movement or thought that imbibes the space and planning and material expression. I have a deeply intuitive design voice, and am often receiving images, forms and complex resolutions resolved and whole from some higher creative well. This is both good and bad, as it is difficult to instantly convey what strikes me and my slowing down of expression and communication is a key driver in my own ongoing development and discovery of the voice of architecture.
On becoming a founding member of deciBel(Architecture)))
I had a bit of a golden run at practice and education. I loved the first degree at Melbourne Uni, and for the mandatory 6 months of practical experience I ended up working for 3 years at DCM, on big public buildings and competitions for both Melbourne Exhibition Centre and the Melbourne Museum. When I went back to school I had done more buildings than many teachers, and so I got an off-campus studio to work from. I started entering competitions in my spare time from uni, and got shortlisted in the second one I entered, for a new swimming pool on Sydney harbour. The jury wrote to me, and mistook my address for a business name, and thus Studio505 was born as a company (studio5, level 05). Thankfully I didn't win the pool, (ken maher at hassell did a cracker job) and I went on to work for 5 and half years on Federation Square with Lab, as the project architect for the facades and folding hard bits.
From there I went back to studio505, and invited some colleagues to join me on a mad architectural journey, that we saw through for some 13 years- making some extraordinary buildings across south east Asia and locally, before we realized that it was time to spread our wings in new directions. Decibel architecture was born at the beginning of 2016, and we are located now in our own design- being the worlds greenest rated building the Pixel Building.
dB(A) has a very clear and articulated vision and mission. We have built a solid culture up in our 18 staff, and we are very focused not simply on well crafted buildings, but on delivering and supporting a better future through their operation. We are working currently through Asia, and much more through Australia from Tasmania through to the northern territory, on projects that are hard to pigeon hole.
On specific principles the firm adheres to
Purpose. We like to assist our clients in uncovering and realizing and making real their deepest purpose. We have strong artistic and technical skills, we listen carefully to the clients expectations, and look beyond those to uncover and help articulate their aspirations, which are often left 'unsaid' by clients.
Clearly sustainability is something we aspire to be challenging and challenged by- we look at all opportunities to harness new massive timber opportunities and delivery and procurement methods that have intriguing opportunities within them.
Ultimately, we are looking to inspire our clients to embrace radical change, and for that embrace to be wholehearted. For the change we create to harness inevitability and guide it towards profound betterment of the environment and our cultural and economic world (which we do not see as mutually exclusive)
On his responsibility as founding Conductor at dB(A)
As the conductor, my job is to inspire and guide, to hunt and gather work, to wave my hands about a lot, to tap time and ensure coherent integrated outputs and outcomes are orchestrated within the practice. I can play all the instruments (poorly!), but my job is to get all of the team playing their very best in concert with each other and the consultants and client groups.
I am at the moment doing and creating a lot of the front-end work, and setting our strategic directions, but the team are growing in confidence and agency, and my ultimate job is to make myself redundant in the practice.
On recent projects that represent the firm's unique approach
As a young practice, we have lit a lot of fuses on projects that we are very proud of our thinking on. These projects span from a new suburb design in the West of Melbourne known as Scenic Botanica, for some 875 lots on a greenfield site, that really broke all the paradigms for residential planned communities, and is looking to deliver an integration with nature and water unheard of in comparable development. We have created a more efficient, smaller footprint, higher value and water balanced suburb, that actively connects people to natural landscapes and recreation. We are in the early development phases of a mid rise residential project at 105 Punt Road Windsor in Melbourne that is designed in CLT (Cross Laminated Timber) and utilizes Corbusian over and under planning to maximize a lifestyle and sustainability in apartment design that is a niche product without the niche price.
We have also recently completed (as studio505) some stunning examples of left field thinking in Schools and Hospitals, with our work at the Malaysian Academy of Han Studies in Malacca and our colourful extension to the Nanyang Primary School changing a lot of mindsets and inspiring some real change, Our hospital wards at Jurongs' Ng Teng Fong Hospital in Singapore have also been incredibly successful- delivering a window for every patient, and views to staggered gardens, the project improved natural ventilation by more than 200%, and created unique and inspiring 'salutonogenic' design on a massive new scale.
On his design toolkit
As designers we are consistently working in 3D. I work in Pen1.0, as the technology is the same as it was when I first picked one up at age 0. I still have a drawing board and light box and raft of pens and colours and the like available at hand. I sketch continuously, and drive the team to write and sketch as well, to use drawing as a tool to assist in thinking. Even our Grasshopper and dynamo gurus are drawing their folds and manipulations by hand along the path as a physical discussion alongside the parametric algorithms they are writing and building in the computers.
We build predominantly in Rhino+Grasshopper, and then into Revit+Dynamo. We render in 3DSMax, and play the full suite of Adobe Creatives across the top of that. We are utilizing Unity and UnReal engines in our realtime visualisations, and playing with AR, VR and MR all the time.
On the state of design software today
I think software today is in a perilous state actually. Everything has become subscription, and we now own nothing real. We are thus driven to continuous updates and re-learnings, which often are pushed too fast without testing by bigger and bigger software houses. I am also particularly concerned about copyright and the control being effected by the makers of VR and AR/MR like Google, Occulus rift and Samsung- they have cover all clause on the use of software that they basically own everything you do- imagine if the inventor of the microscope had done the same. Ridiculous.
On the disruption and innovation needed in the architecture industry
I think as a profession we need to stop underbidding one another for work. It is a slippery and deadly path. We become irrelevant in the long run as a creative profession if we refuse to argue and engage with the challenges of our profession, and simply underbid to feed a machine. It incentivizes the profession to do the same thing, to outsource and to discount.
A race to the bottom that has already been won in many places by inspections. We as a profession need to be able to expand our thinking, become the brief makers and drive aspiration higher, and be prepared to say no more often.
On the future of the industry
I think there will, like most of the world, become a greater and greater divide between the haves and have nots. The big practices will grow and continue to buy other practices and wield larger and larger discipline sets in order to 'harvest' enough work to survive and 'grow' as all shareholding companies must. The smaller practices will become more and more niche- delivering their particular brand to a shrinking market who sustain that practitioner in the manner to which they have become accustomed.
On the future of deciBel(Architecture)))
We want to mix it up. Be a bit invisible. Be super bright and shiny. Explore some dark and cool corners. Be non-architects about some things, and drop architecture into places it has never been a bit. We want to be explorers, a bit 'pirate-y' perhaps. We definitely want to use our minds and hands and hearts to make this world the best it can be.
On advice he would give himself
Trust your gut. Listen a bit more. And have fun.