How to Create an Interactive 3D Architectural Presentation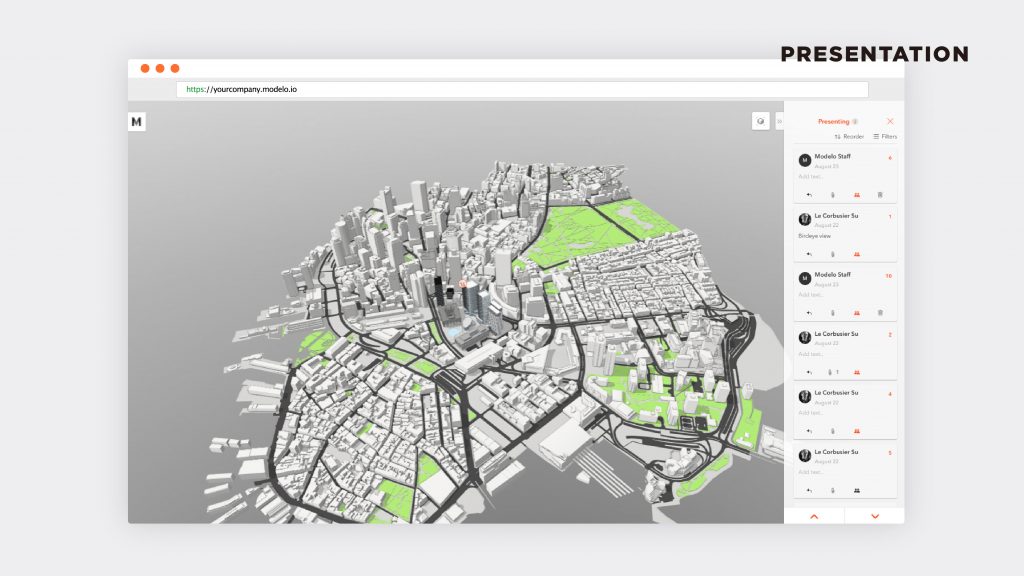 If you've ever wondered how to create an interactive 3D architectural presentation in only minutes, look no further. Presenting architectural designs is a necessity for both internal and external stakeholders. But, the process of creating 3D architectural presentations before Modelo was time-consuming and frankly outdated. Up until this point, architects have been relying on screenshots, PowerPoint, GoToMeeting and Dropbox to present complex designs to clients or colleagues. It's arguable that engagement gets lost in this static design process.

Naturally, 3D models are a huge part of successfully communicating your vision to others since you are able to immerse people in a realistic view, thus making 2D screenshots not as effective. So the question is, how do you create a 3D architectural presentation and truly engage your audience in a simple way?
Enter Modelo, a presentation platform that seamlessly allows you to create interactive 3D CAD and BIM presentations, while storing your 2D assets and saving invaluable design time. Creating presentations with Modelo is easy since the platform is geared toward AEC professionals and compatible with the file formats you already use like Revit, Rhino, 3ds Max, SketchUp and Vectorworks. 
Here is a breakdown of the 5 steps:
Create a Modelo account
Upload your 3D design
Update the settings (such as lighting or material color, to show different design options to clients)
Add 3D comments (these will guide the presentation)
Press the present button
Pro tip: learn more about getting started and rendering your 3D design in Modelo here.
Why waste time presenting clunky BIM files? With Modelo, you can drag and drop BIM files and instantly view any part of your model. These large CAD and BIM files become weightless in the web, allowing you to move around quickly and effortlessly explore any area of the model.
The goal is to not only communicate your ideas clearly, but to truly immerse others in your vision and make it a reality with interactive 3D architectural presentations. You can even take this a step further by presenting CAD and BIM designs in VR with just one click. For example, bringing your model from SketchUp to VR takes seconds in Modelo. All you need is a Google cardboard, an Internet connection and a mobile device.
To learn more, watch the tutorial video below and create an account to start creating your 3D interactive presentation today.