Design Manifestos: Matías Imbern of I+GC [ar]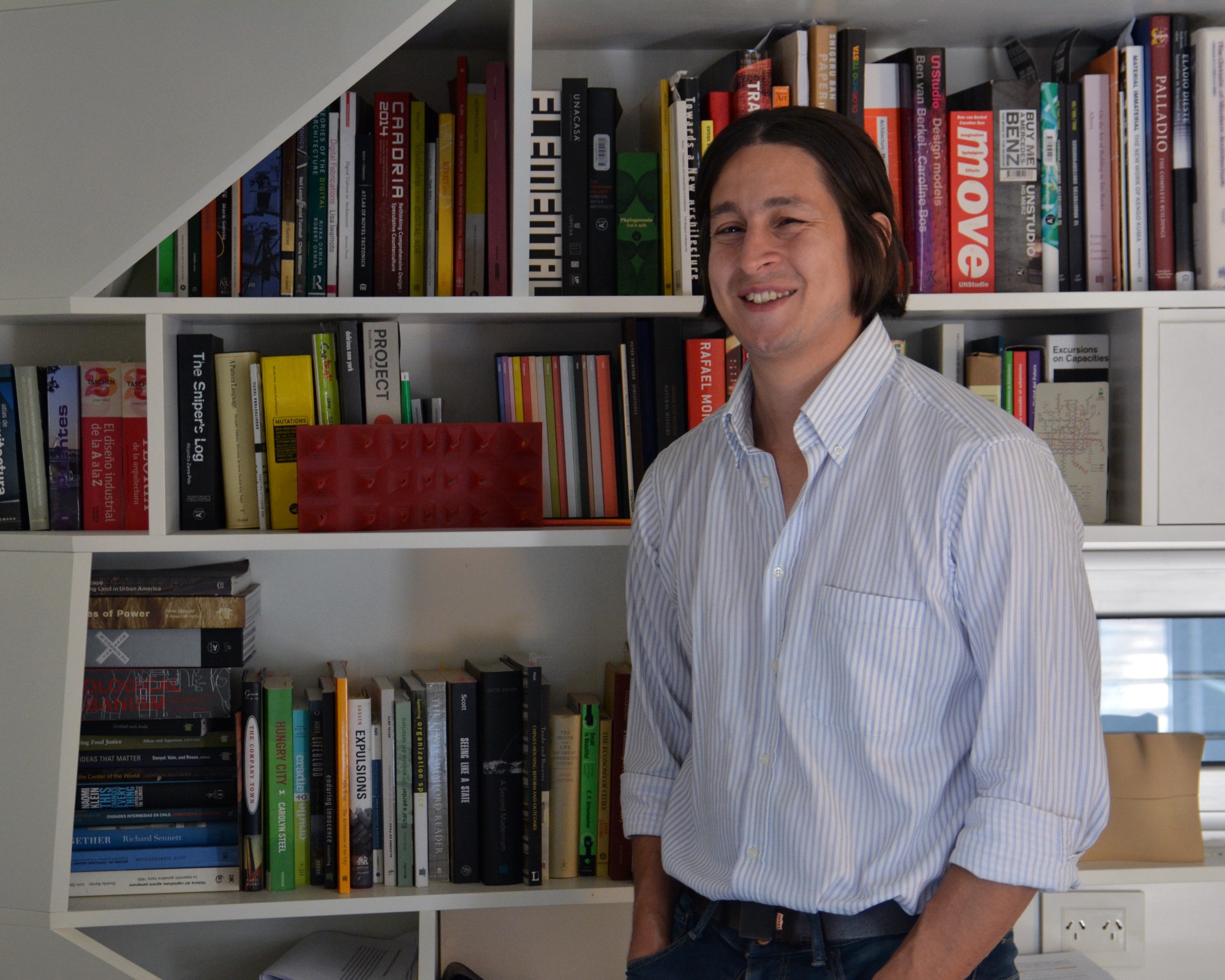 Matías Imbern obtained his Master in Design and Technology with honors from the Graduate School of Design at Harvard University (GSD). His research is focused on the strategic interaction between digital technologies and material systems applied to architecture. He currently serves as Tenure Professor at the National University of Rosario, where he previously obtained his degree in Architecture with gold medal. He is also a Professor Fellow at the School of Architecture and Urban Studies at the Universidad Torcuato Di Tella. having lectured and participated as a visiting professor at several universities and schools. Matías leads his firm I+GC [ar], based in Argentina, where he also directs the research group Lab.Id. His production is focused on housing, competitions and research projects. Modelo spent some time learning about what led Matías to pursue a career in architecture and about what continues to inspire him today.

On becoming an architect
Design has always been my passion since I was a child. Beautiful buildings and big infrastructures have always attracted me, so to study architecture was almost an involuntary decision.
On discovering his voice as a designer
I studied at the School of Architecture in Rosario, Argentina. The great advantage there is that, once you get your diploma, you have access to construction very easily. However, the school is not updated on some key issues, which makes it kind of isolated.
While studying, I met some professors who encouraged me to continue my education abroad. So I decided to apply to Harvard GSD in Massachusetts in order to understand how contemporary architecture was evolving. The rapid and sustained development of new technological processes emerged as a pivotal design concern, motivated by the synthesis of two worlds that seem opposites: digital and material. That was the beginning of my design research.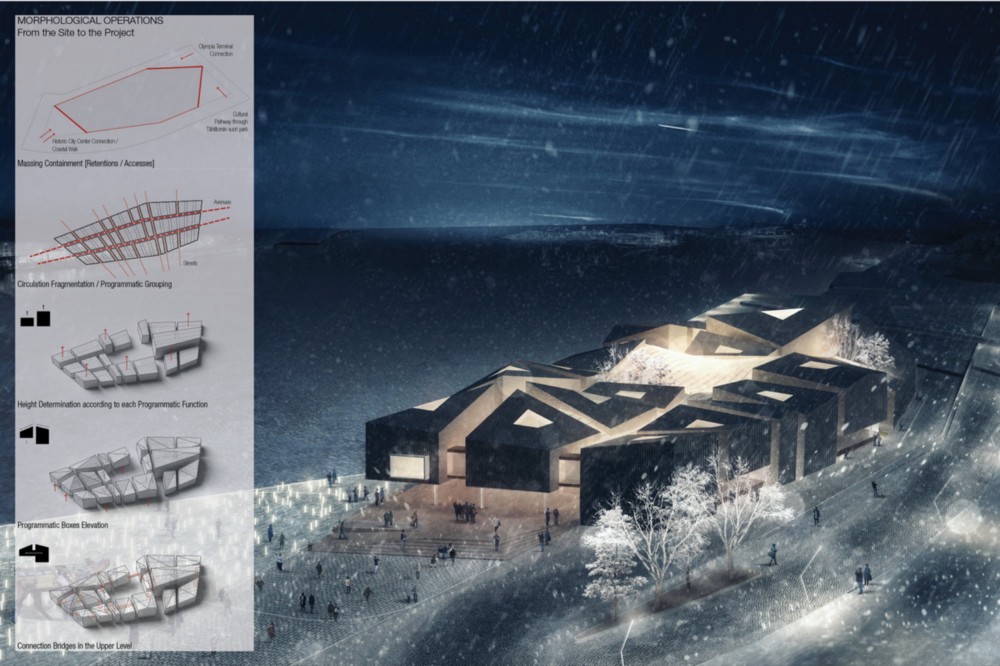 On founding his firm
After finishing school I had a couple of housing commissions, so I decided to start a young firm, a common situation in Argentina. I used those houses to apply the concepts I learned while studying, but also to learn how to lead and how to put a building together.
Then, Harvard GSD was a life-changing institution not only regarding education but also influences and vision. When I decided to come back to Argentina to develop my firm, the architecture we practice evolved towards a more systemic approach, based on digital design tools. Apart from that, the scale of projects we are building have changed, mostly housing/mixed-use developments.
Our studio was conceived with the philosophy of stimulating constant interaction between academia and the professional scenario, between research and practice. This design research is what feeds our role as university professors, as well as the importance given to postgraduate studies as a source of experimentation and continuous feedback. Additionally, I decided to create a research branch called Lab.Id as a tool to work mostly on competitions, able to speculate and test concepts more freely. Lab.Id aims to promote a permanent debate about the development of contemporary architecture, trying to understand where to position our architecture. We give a persuasive value to utopia, understood not as an impossible achievement but as something that has not been developed or materialized yet.
On specific principles he strives to adhere to
As a general design principle, we share the idea of generating a contemporary architecture that addresses its time and place, as a way of contributing to the cultural progress of society.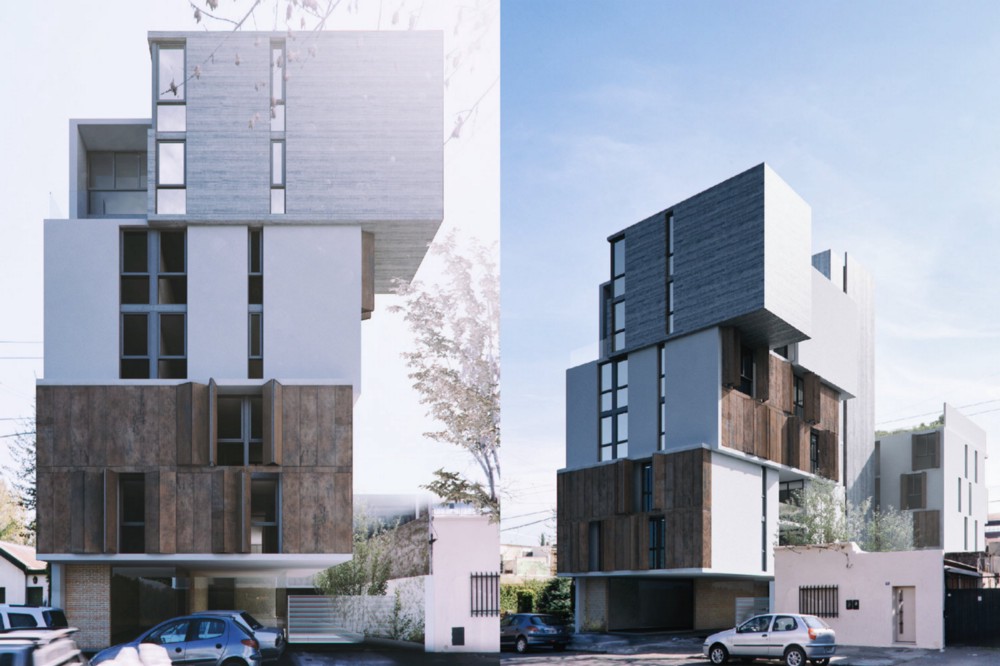 As a specific design principle, we always use a systemic approach, based on the use digital tools, but we tend to define simple systems that can be easily applied with local technology. For example, in the 17×17 House we used a system of folded concrete planes to define form and interior space while accommodating programmatic functions For SnJ Building, the strategy was to use a sequence of stacked boxes that follow programmatic functions, defining, at the same time, the building´s materiality.
We believe in diagrams as a powerful design and communicational tool, to share our design concepts with clients, colleagues and most importantly with ourselves, to understand and substantiate our design procedure.
Architectural design is understood as a system of symbiotic relationships, becoming a hybrid between intuition and systemic thinking. Being more emphatic on processes rather than forms.
On his role at the firm
I think my role as Principal is divided in two tasks. On the one hand it is essential to impart a strong design philosophy to the design team, and be able to convince clients and contractors to believe in that philosophy. On the other hand, leadership becomes crucial in order to organize the tasks, to increase productivity and to get things done. Additionally, there is another role, which runs in parallel to daily activity: constantly thinking in perspective about the future that the firm should pursue in terms of design. A critical thinking to create a feedback loop with daily activity, otherwise you can get lost in daily routine.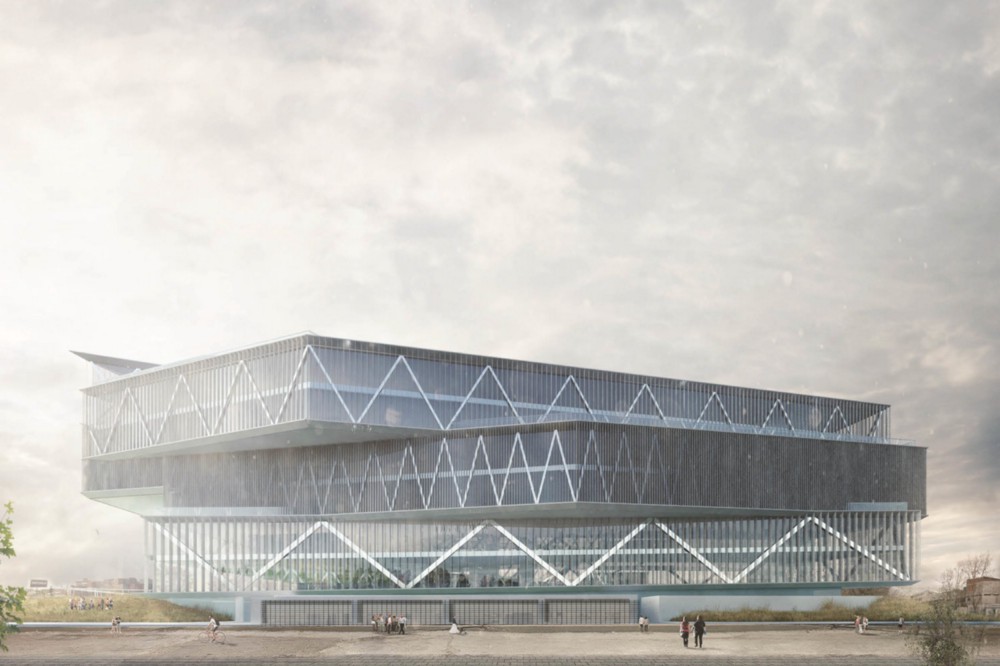 On recent projects that represent the firm's approach
I do not think we have a unique design yet. We still have to work harder in pursuing and clarifying our interest, being able to hack the use of digital systems in a low-tech environment as Argentina. I try to use my teaching experience in Torcuato Di Tella University as an experimentation lab. Last year we finished a Pavilion called Ditebius Torus, an investigation that combines reciprocal structures, timber wood, and the use of digital tools for design and manufacture. The geometry of the pavilion responds to a generic three-dimensional form called 'moebius torus', used as proof of concept of the versatility of the system. Afterwards, the real challenge is to be able to express those academic concerns into architectural design process.
The Disseminable Pavilion is one of the most convincing projects we created following that challenge. As a strategy for our the low-budget proposal required by the Iberoamerican Biennial of Architecture and Urbanism, we submitted a pavilion made y steel benches that can be installed in several parks and squares of the city, after the event is over. A Pavilion that articulates Architecture and Urbanism, and remain imprinted on the collective memory of the citizens. The result is a pure compression dome populated by benches, structurally optimized by finite element analysis software.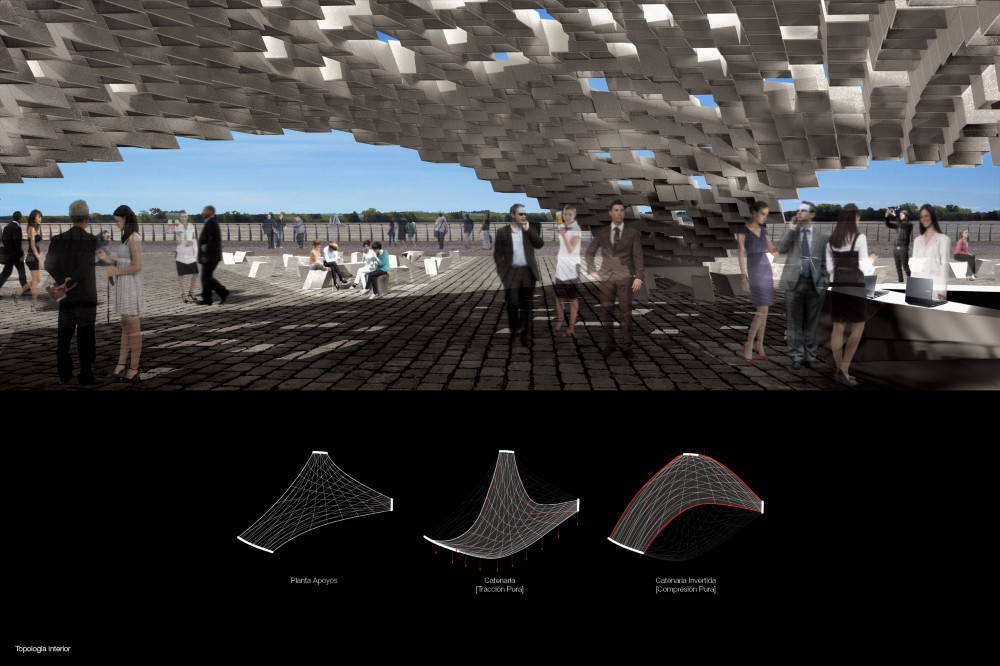 Increasing the scale of the project, another interesting proposal came up for the Guggenheim Helsinki competition. Morphological and material strategies were carefully designed in order to merge with the existing architecture of the city, respecting its historical tradition. The fragmentation of the program reduces the visual impact of the building and gives independence to the exhibitions, being able of re-arranging them in many possible ways. Each programmatic unit has a steel egg-crate structure with a cladding façade of brick panels. The exterior panels use digital technology to create a pattern from a traditional Finnish forest. Additionally, the robotic fabrication of the panels allow making them off-site during the winter (when the harsh weather complicates the construction on-site) and setting them together during the summer, reducing construction time and cost.
Finally, at the urban scale, we got a prize with our proposal for the newest country in Europe, Liberland, besides the Danube River. The critical challenge of the project is how to create a city within a flooding forest. The Danube river dynamics generate lateral migration according to the geometry of the meanders, shaping the landscape of Liberland. In order not to interfere with the natural ecosystem, the project develops two superimposed strategies at different levels. It creates a floating city capable of coexisting with the flooding forest, allowing nature to flow underneath. Scripting was essential to replicate the forest pattern (created by the affectation of meanders), and arrange the city grid accordingly, developing a symbiotic relation with the existing landscape.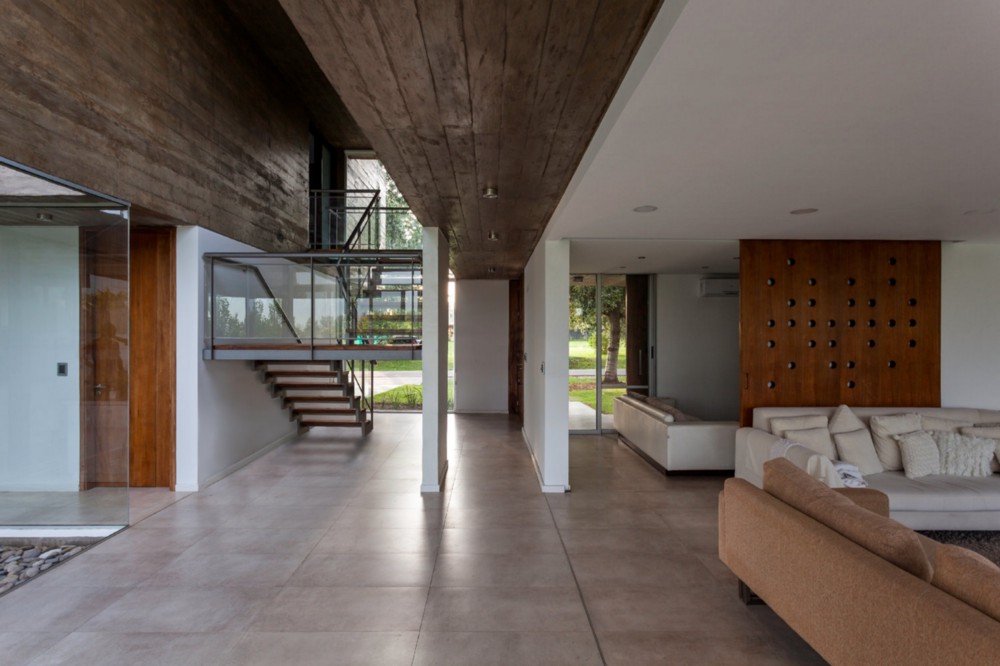 On his design toolkit
Incorporating digital systems allows us to reliably engage design and manufacturing, providing new opportunities even with traditional materials. Rhino and sometimes Grasshopper are present during the whole process, from design to fabrication. They are used to develop initial concepts, to understand space complexity and to study building details.
Projects as the Maria Elena Walsh Educational Complex, the last competition we have submitted, would have been impossible to develop without the use of digital tools. The project has a huge open-office space that was conceived as a helicoidally continuous ramp. The resulting complex space and its reciprocal Vierendeel-girder structure, were impossible to solve without 3D modeling.
On the state of design software today
I think there is a lot of powerful design software. In the last ten years I have noticed an important diversification in the software industry, and the appearance of more specific software to work on different design topics. I remember while being at school, knowing four or five software was enough. However, nowadays, architects need to handle a complete set of tools in order to use the computer as the as a powerful design tool. In the near future, architects will be required to use these tools and to be able to create their own tools, using scripting or similar methods, to be considered literate.
Another software branch is the design of apps for smartphones, popular as an interface between designers and clients. For example, in our submission for the competition One House (an innovative pre-fabricated housing system), we proposed the use of an app, so clients could choose and test their houses preferences, seeing results in seconds. By doing so, clients act as designers, into a controlled environment developed by architects.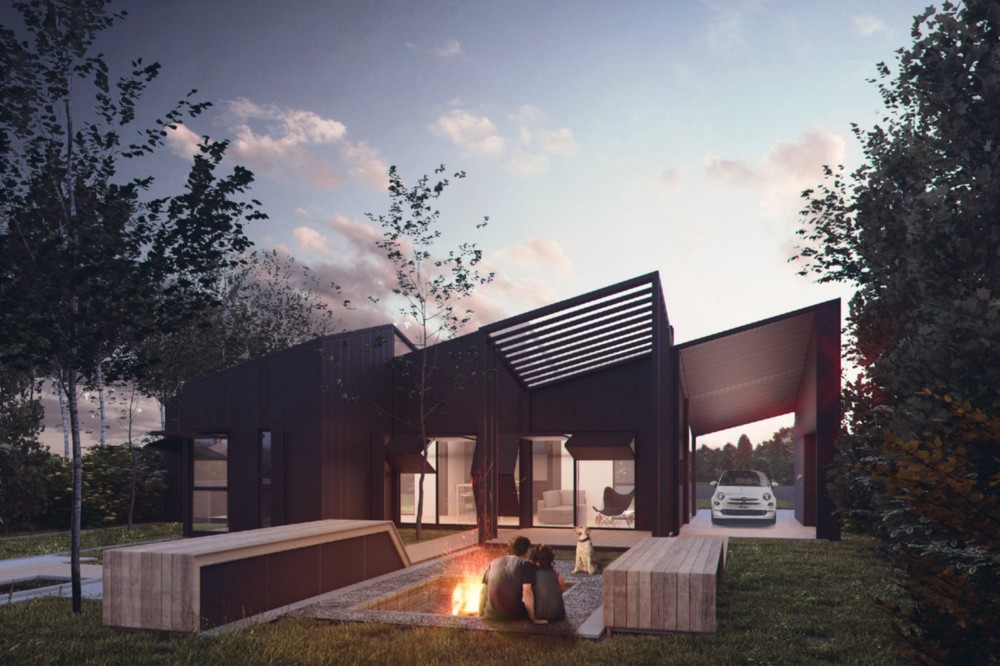 One House (Image courtesy of I+GC [ar])
On the future of architecture in the next 5–10 years
I still notice some resistance in the use of digital technology for envisioning architecture. Although digital technology is pervasively around us, we still have so much to learn regarding not only design and fabrication, but also augmented spaces where technology behaves as a surrounding interface.
Of course that technology will continue developing; however, as it happened since the Renaissance, there is always a need of and architectural way of thinking in order to produce innovative buildings conceived according these new set of technological systems. Nonetheless, the challenge as architects is to be able to use technology as a tool to address not only formal/spatial issues but also crucial social problems.
I think robotics and new smart-materials still need to keep expanding to affect all layers of industry. We live in a world in which robots can perform complex surgeries. They are making a strong impact in different areas of our society. Architecture, as discipline and as industry, should reflect these social changes. There are a lot of research prototypes in academia and some few examples in architecture as a practice, but robotics and smart-materials still have a major role to play.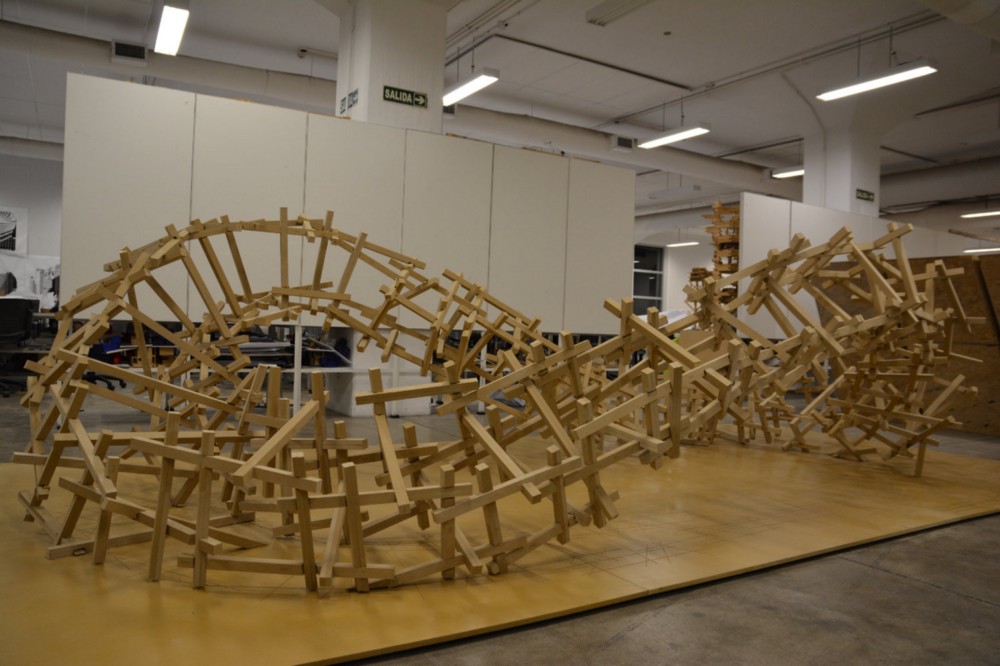 On the evolution of his firm
My firm is based in Argentina, a developing country, so regarding advanced technology we are always one step behind. However, Internet, social networks, smartphones and so on, are tools that keep us informed and connected with the rest of the world. We try to use competitions as research projects in which we can speculate about contemporary technology.
Eventually, as a firm, we will try to expand globally, to be more in touch with these fabrication technologies, and actually use them to construct, not only in competitions.
On advice he would give himself
Dream big, trust your instincts, be perseverant, and never give up.