Design Manifestos: Jason Steiner of Mithun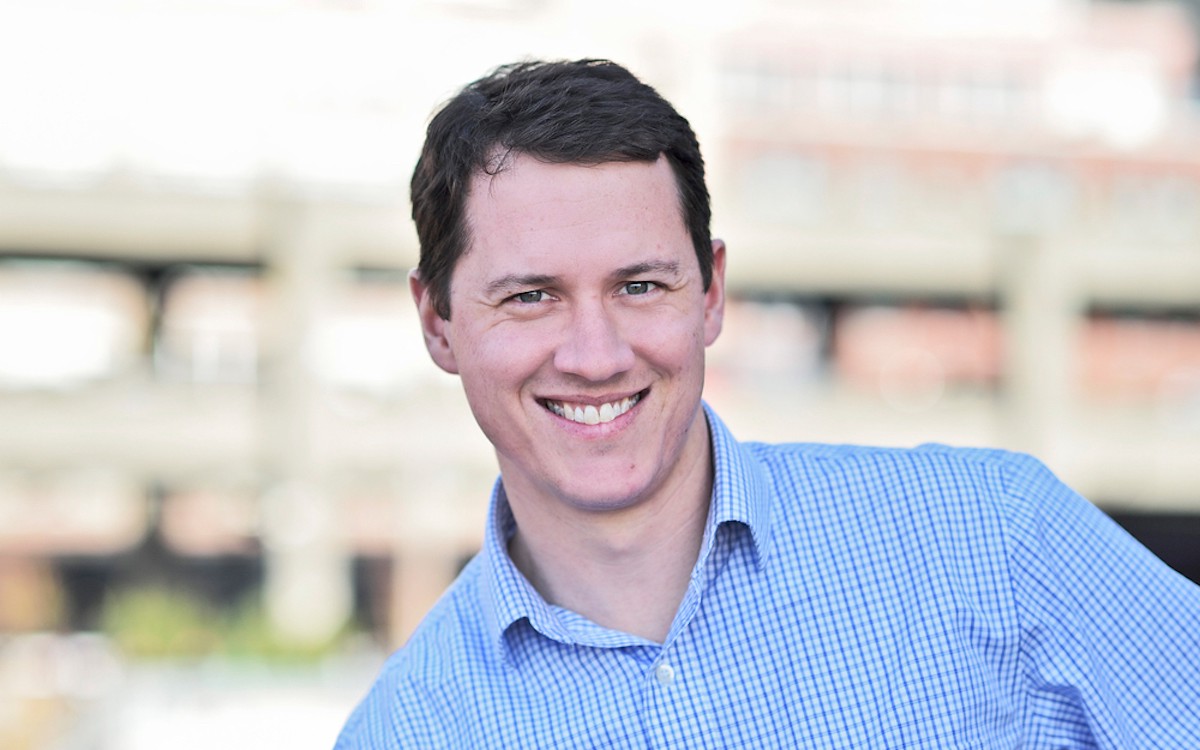 Blending artistic vision with analytic expertise, Jason Steiner leads Mithun'svisual design team at the Seattle, Washington office and integrates digital modeling, performance analysis and visualization into the design process. With advanced degrees in environmental design and architecture, Jason assists clients in visually understanding and articulating their goals through the medium of graphic communication and employing technology such as Building Information Modeling (BIM). Modelo recently connected with Jason and learned about his digital design process and his inspirations for past, present and future designs.

On becoming an architect
I do not recall the exact moment in time when I realized I wanted to be an architect. I don't recall having an abundance of Legos as a child, so that's likely not the reason. My parents were not architects. I did not know any architects. My earliest career aspirations, at least those that I remember, included being a truck driver, carpenter or lawyer. In that order.
However, for as long as long as I can remember, I have had a sustained interest in building construction, solving complex problems, making things and drawing. These combined interests ultimately led me towards architecture as my choice of profession.
On discovering his voice as a designer
During my second year of college I was part of the first cohort required to take a computer graphics course. This was an initial pilot program intended to eventually fully integrate design technology into the academic curriculum. I was hooked and perhaps even obsessed. I was absolutely energized by my new ability to model and realistically visualize any space or form I could imagine. I could explore design ideas without limitation. This free exploration provided me with the ultimate facility; the mouse became my pencil and the screen my canvas. I am a minimalist and in practice employ an elemental, modern approach to design. I believe that great design emerges from simple meaningful concepts. Every design element has purpose, is intentional and essential. I truly believe that the digital tools I was exposed to early in my academic career were the single most influential part of discovering my voice as a designer.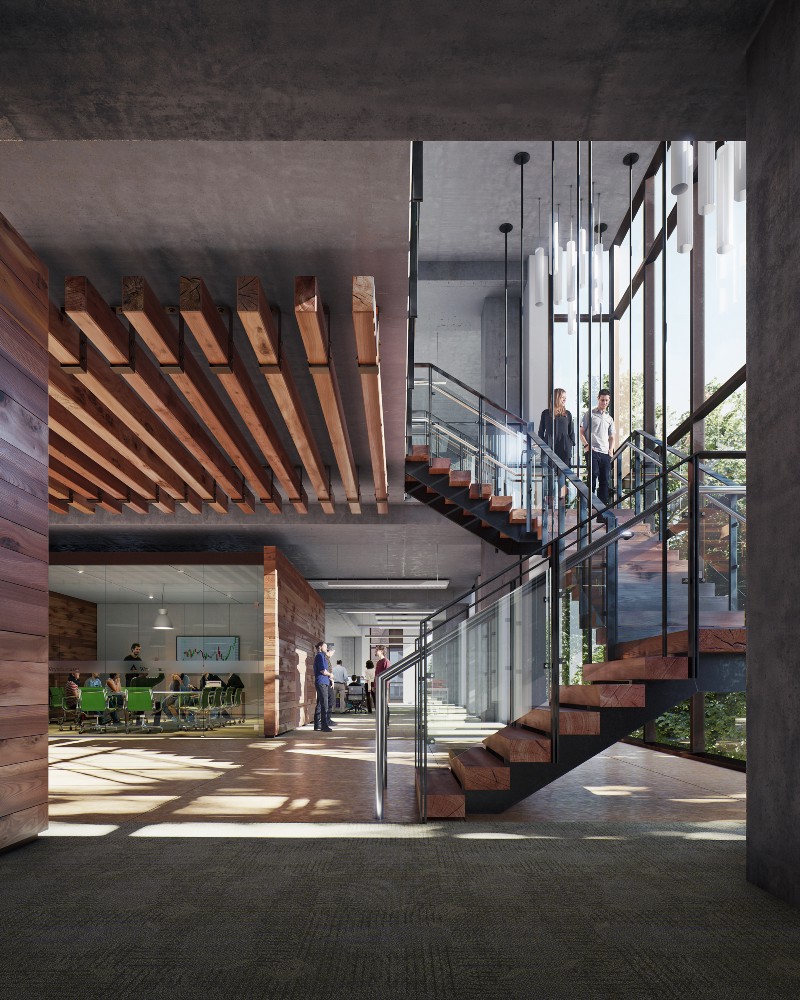 On the evolution of his role at Mithun
I joined Mithun initially for a six month internship while I was completing my last year of undergraduate studies. I became aware of Mithun after I had seen Bert Gregory, then Mithun's CEO and the current Chairman, give a presentation on the recently (at the time) completed REI Seattle Flagship Store project. The firm's deep commitment to sustainability, integrated design and beautiful architecture resonated with me. After my internship, I went back for graduate school, then upon completing school, took a week off and returned to Mithun. That was nearly 15 years and hundreds of projects ago!
My approach to architecture has certainly evolved since joining Mithun. I listen more (and talk less). I fully appreciate the responsibility of design with a purpose, for positive change. I have a more inclusive approach towards design and completely embrace the complex collaborative process.
On principles Mithun strives to adhere to
At Mithun, the overarching principle we strive to adhere to is, "Design for Positive Change." We are a design firm, and our design has purpose — to create positive change in people's lives. I find the simplicity and ambition of this principle to have a profound impact on our work and approach.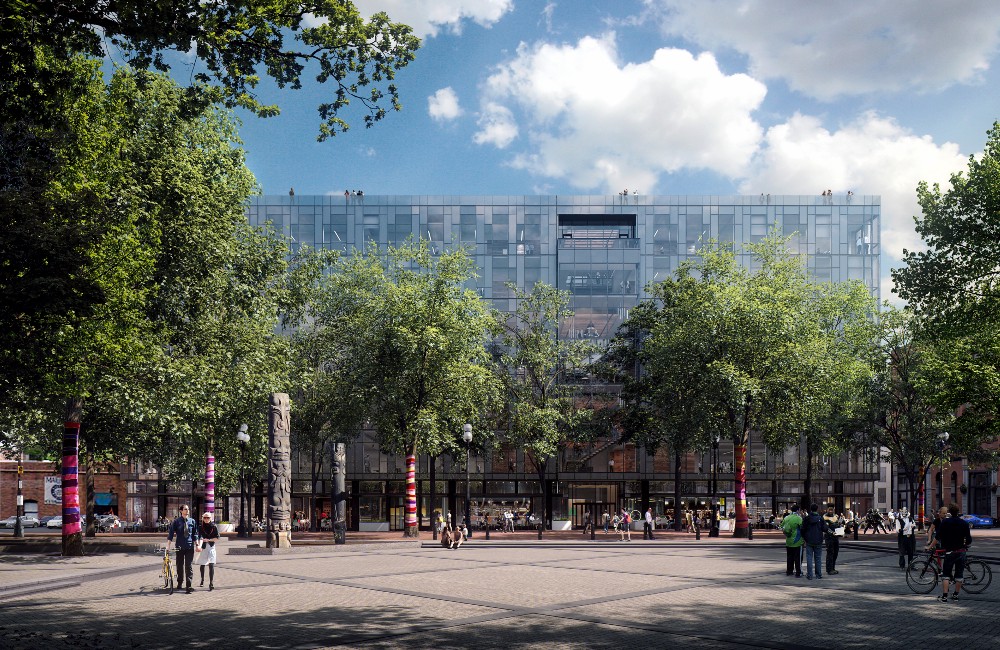 On his role at Mithun
At Mithun, as a Partner and the Director of Digital Design I lead the firm-wide integration of design technology into the design process, help guide Mithun R+D and also work as a designer mainly on conceptual design for a variety of projects and project types. I am also responsible for much of our recruiting efforts of recent graduates and summer interns. I am fortunate, as I am allowed to focus on two things I am passionate about; design and technology.
I work to provide designers across all disciplines with the best technology available to produce meaningful and beautiful work. I am particularly interested in crafting the design process to take full advantage of the opportunities created by emerging and existing technologies. I believe that design technology should be integrated in a manner that enables an intelligent process and fluid design EXPLORATION as opposed to design EXPLANATION. Providing designers and project teams with tools enabling rapid design exploration enables our teams to work efficiently, make better decisions and communicate with clients and stakeholders in a visually understandable way. Our project teams and clients also have fun incorporating new tools and methods of working!
On recent projects that represent Mithun's unique approach
I do feel that Mithun has a unique approach to design. Every process begins with listening. We design experiences, not objects and we believe each design is different, because each client and each site is different. We are inspired by urban and natural systems and beauty grows from richly integrated solutions.
Our work is inspired and formed by; 1. an alert sense for the needs and experience of the user, 2. a culture of constant curiosity and discovery, 3. a spirit of optimism and promise, 4. an abiding responsibility to our clients, community and environment, and 5. the patterns of nature, the vision of an organization and the soul of a city.
We focus our efforts where we can make the greatest impact on people's lives; where they live, work and learn.
A few recent projects that stand out as representatives to this approach are The Sustainability Treehouse and Weyerhaeuser Headquarters at 200 Occidental. For The Sustainability Treehouse, the building form emerges entirely from the experience. Dynamic educational spaces designed for exploration of the site and ecosystem at the ground, tree canopy and sky are elevated within the towering corten steel frame. The experience captures the wonder of childhood exploration, placing environmental education at the forefront of meaningful experiences for thousands of annual visitors to take home, positively changed. With Weyerhaeuser Headquarters at 200 Occidental, our design approach intentionally honors the neighborhood's existing architecture while enhancing the contextual character with a modern, deep green interpretation. This design response would only be appropriate for this project, on this site, for this client. The Novelty Hill Januik Winery is another example of beauty growing from richly integrated solutions as landscape and interior space work in harmony to elevate the human experience.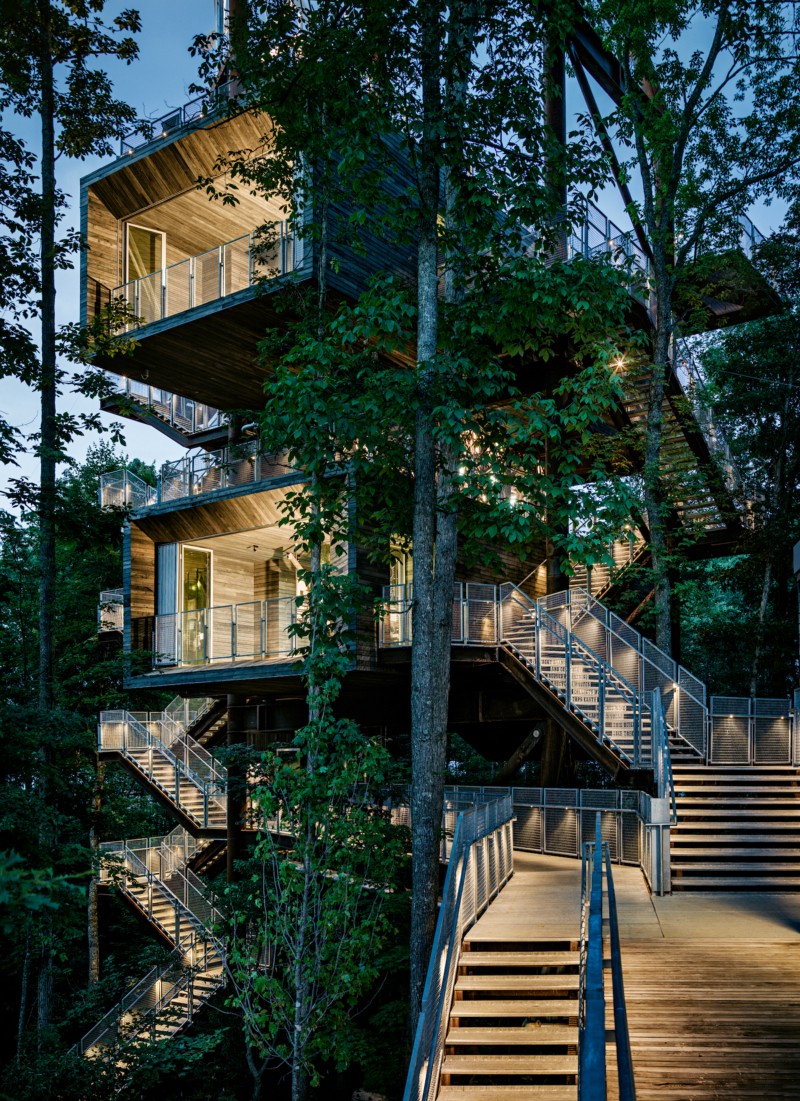 On his design toolkit
3D modeling plays an important role in our process. We made an intentional, and at the time challenging, decision about eight years ago to transition all projects and disciplines to a BIM workflow, specifically Revit. We had done a few projects using Revit and understood the enormous potential for a more intelligent process. At the time, we were typically building 3D models for all projects in Sketchup, AutoCAD and / or 3ds Max concurrently with the production of 2D construction documents in AutoCAD. The parallel processes were highly inefficient and not aligned with a real-time decision making process. The use of BIM allowed for all designers to collaboratively share in the creation and exploration of a 3D model, and concurrently produce the construction documents. Today, we categorize and focus our 3D modeling software / processes into three primary categories; BIM, analysis and visualization.
For the development of the BIM, nearly all of our staff is highly proficient in the use of Revit as both a design and documentation tool. Architects, landscape architects and interior designers all work within Revit, collaborating on the BIM in real-time, beginning in the conceptual phase of design. Regarding initial form generation and massing we use a variety of tools, most notably Revit, Dynamo, Sketchup and 3ds Max. For example, The Sustainability Treehouse Revit model was started on day one of design, as we were participating in a two-week design charrette with the entire project team (client, consultants, contractor) in West Virginia. This allowed us to immediately visualize and begin to communicate and study a complex structure and site. As much as possible, everything we do is linked together in a dynamic way, regardless of the program it was constructed with. We also still use pens, trace and cardboard!
For analysis, we have implemented Sefaira into the conceptual and schematic design process to help us understand the relative effectiveness of our decisions and use as a comparative analysis tool. We use the data from Sefaira to help us understand the relative performance of our design options and make more informed decisions as we move towards a design solution. One primary benefit of Sefaira is the ability to dynamically link the Sefaira "model" to our Revit design model and see the updated analysis in real-time.
For visualization, we primarily use 3ds Max / VRay and Lumion. We began using Lumion upon the initial release and have since integrated it fully into our digital design process and trained almost all designers at Mithun. The WYSIWYG (what you see is what you get) approach is an important part of our process as it allows the design team to focus their efforts almost exclusively on the development of design. This allows for a more efficient allocation of our resources towards the design effort, and ultimately we can do better work. We believe in the benefit of a real-time collaborative design process with our clients and project teams, and Lumion enables this in a significant way. We aim to present "live" in real-time whenever possible. For Weyerhaeuser Headquarters at 200 Occidental, real-time use of the Lumion model was used extensively and at times exclusively throughout the City review process. We also employ Virtual Reality (VR), currently using the Samsung GearVR combined with both 3ds Max / VRay and Lumion. Experiencing design from the human perspective is an invaluable tool in making more informed decisions. We are in the process of implementing full VR into our process.
On the state of design software today
I am optimistic about the state of design software today, as it is generally developing rapidly. We currently use a lot of different software, each with a specific purpose within our design process. The current challenge is interoperability and the relative inefficiency of distinct workflows and processes, especially when they lack connectedness. I am most encouraged by the rapid advancement of virtual and augmented reality platforms, positioned to radically disrupt the design process in the near future. The "holy grail", of course, would be to dissolve our three categories into one where we would be able to simultaneously connect the BIM, analysis and visualization, in real-time.
On the future of architecture in the next 5–10 years
Projects will continue to increase in complexity and necessitate even greater levels of collaboration and intentional inter-connectedness across disciplines and expertise. We will continue to build upon our understanding and research into the connections between the built environment and human health. From a design technology perspective, augmented and virtual reality will transform not only how we share our work, but HOW we work. BIM will continue to evolve towards a fully integrated and coordinated design + construction + FM model. Also, BIM will be as much of a documentation platform as it is a social platform. Project teams will collaborate in a real-time virtual world. For the next generation of designers, the ability to write code and participate in a virtual process for extended periods of time may likely be equally as important as the ability to draw.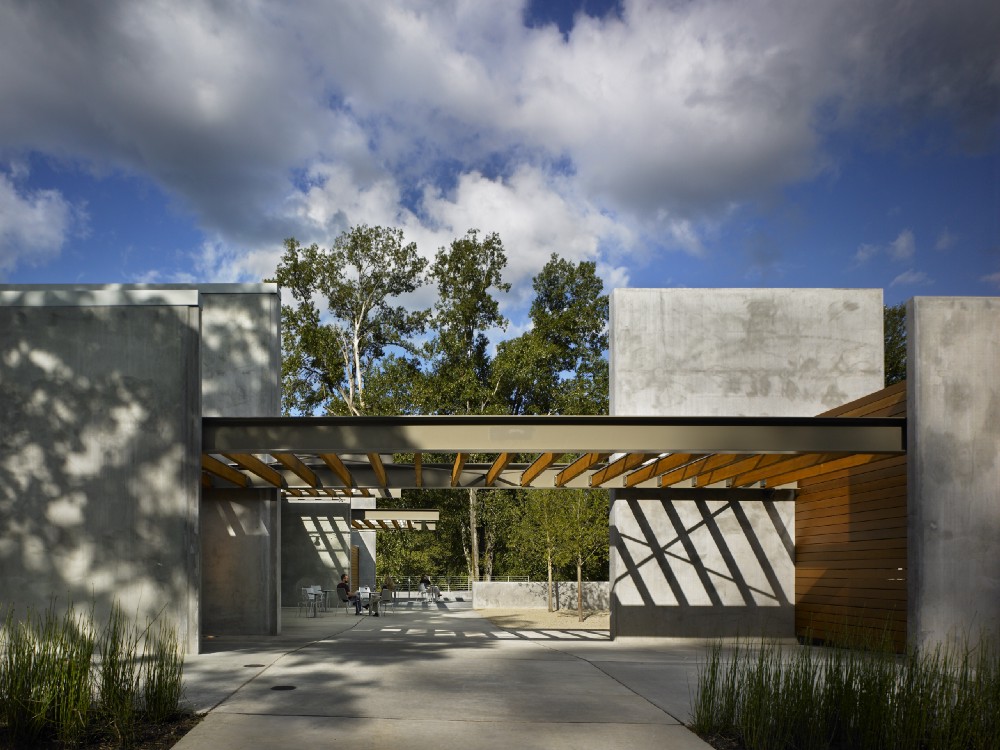 On the future of Mithun in the next 5–10 years
We are committed to design's ability to anticipate and address the challenges of the future.
Mithun will continue to embrace the integration of technology into the design process, helping us effectively address these challenges. We will actively recruit a next generation of designers, eager to participate in a design process much different than what we would recognize today. We will need to remain nimble and continually willing to redefine our process, expectations and roles.
On advice he would give his younger self
Looking back, I have invested an enormous amount of my life and career into design technology and architecture. Working on projects like the Sustainability Treehouse, where I have seen the real positive change in people's everyday lives, is extremely satisfying and humbling. The effectiveness of our real-time model during the conceptual design phase generated much of the momentum and excitement that was instrumental in the project being realized. Our ability to do that real-time work as a part of the design process was built upon years of development, passion and commitment to doing meaningful work. I would simply tell myself two things. It's worth it. Because, it matters.